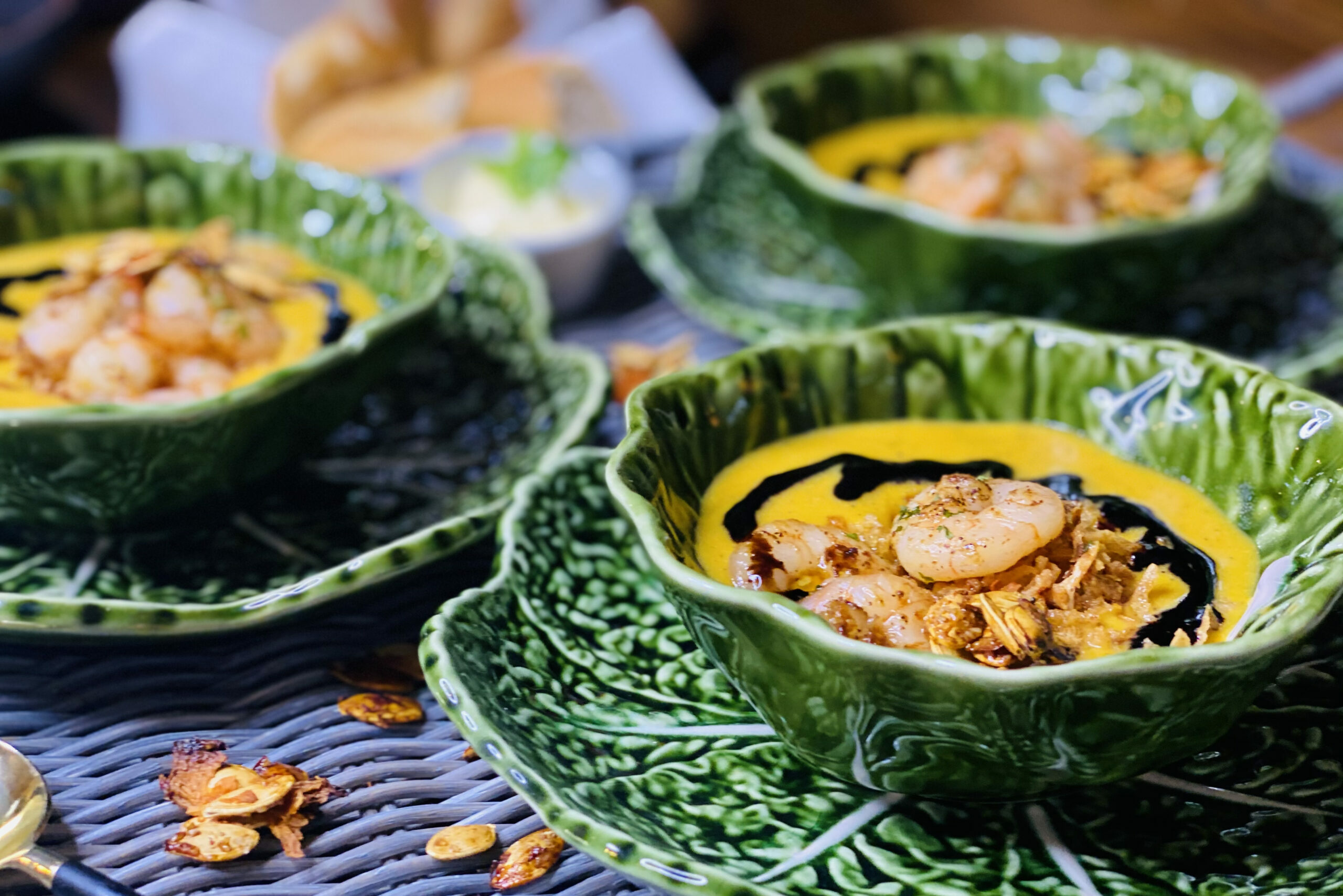 21 Nov

Pan seared Prawn Pumpkin Soup

Another week .. another soup for your taste buds. 

Pan seared Prawn Pumpkin soup for you this week. That's right I'm rinsing my last bit of leftover pumpkin from Halloween and creating something new. I must say I've totally underestimated the use of Pumpkins!

Soups don't have to be boring, add your own spices to it to get it to a palatable level.

I freeze my leftover soups in dedicated ice cube trays and love to pop out (shaped as ice cubes) the quantity I need when required and defrost them whenever I feel like having something warm. 

The beauty of frozen soups is you can add whatever you want in it to alternate your meal choice, chicken (thighs are the best!), smoked mackerel, grilled salmon, pork, lamb or simply vegetables. Just make sure you assist this wonderful production with a nice crusty freshly baked bread/petit pains with lashings of Lurpak!
Course: Starter
Cuisine: African
Prep time – 10 minutes
Cooktime – 30 minutes
Servings – 6
Ingredients:
1x small Pumpkin (instructions on how to puree pumpkin can be found HERE OR 2x cans of Pumpkin puree
200ml Vegetable stock
300ml Coconut milk
1tsp Nutmeg
1tsp Cayenne pepper
1.5tsp Sea Salt
2tsp Black pepper
1/2 tsp cayenne pepper
2tsp ground Crayfish
2 cups medium to large raw Prawns (with tails)
Knob of Garlic butter
1tbs runny honey
1tbs Balsamic vinegar glaze
3tbs Crispy onions
Handful Fresh Parsley
Method:
To make the Pumpkin soup
Place the pumpkin puree in a pan on low heat, add the vegetable stock, coconut milk, nutmeg, cayenne pepper, ground crayfish, salt (1tsp), black pepper (1tsp) and honey.
Stir and let it simmer for 10 minutes stirring occasionally.
Taste to ensure you're happy with the salt content.

To make the Prawns
Wash the prawns, pat dry and season with Salt & Black Pepper.
Place the prawns in a hot pan and pan fry each side at 2 minutes.
Add the garlic butter and stir gently until evenly coated.
Sprinkle some dried parsley and take off the heat

To Serve
Dish the soup in a bowl, top it with the crispy onions, layer with the prawns, then squiggle the glaze and top it off with roasted pumpkin seeds (optional) and garnish with fresh parsley. Enjoy on its own or with a piece of crusty bread.
Swapsies:

You can swap the crusty bread for croutons and if lactose intolerant you can use dairy free cream coconut milk substitute
This soup is perfect for vegans & vegetarians, just leave out the Shrimps & ground Crayfish and top up the soup with roasted pumpkin seeds & crispy fried onions (store bought or make your own with some shredded shallots pan fried)
If you don't have the time to prepare the pumpkin purée you can always pick up a can or two of ready made pumpkin purée online.
A full video of this recipe can be found on my channel FUNJAYJAY | How to make Pan seared Prawn Pumpkin soup
Feel free to leave your comments below or if you have any questions about the recipe, please do ask.
xoxo
FunLola
---