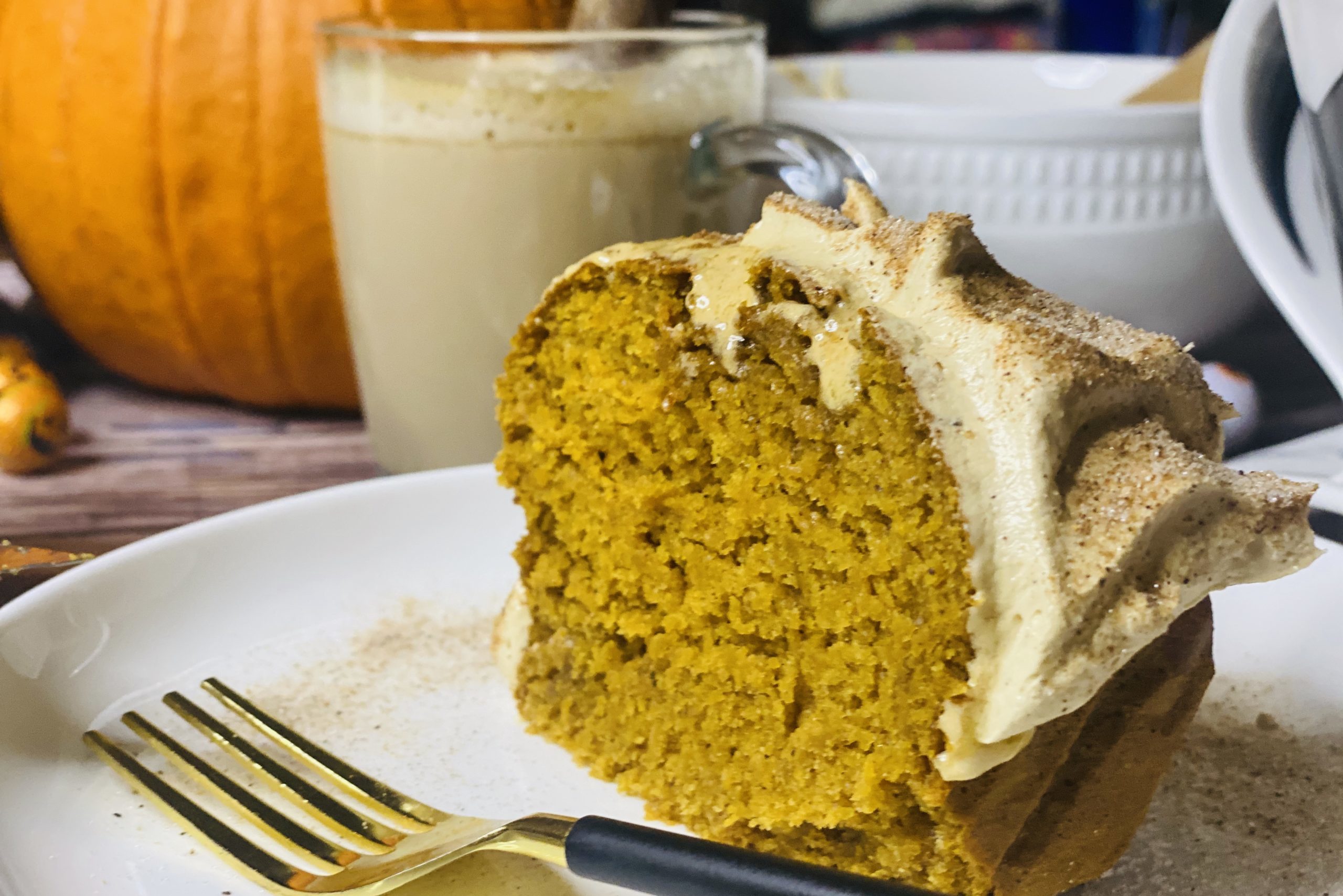 25 Oct

Cinnamon Pumpkin spice Chai Latte Loaf

One thing I love about autumn is the snuggle fest of cosy outfits, great selection of Autumn/Winter collections in stores and my favourite part .. walking into a warm cosy house after been out in the cold. A hot bath, slipping into comfortable PJs & slippers, and best of all, a soothing drink that warms you up whilst tucked underneath a cosy blanket. As autumn season begins, here is one of my favourite snacks which so happen to be Autumn/Halloween decor inspired.

I wanted to challenge myself using pumpkins in cooking and this an ode to my autumnal drink from Starbucks, the 'Pumpkin Spice Latte', in form of a Cinnamon Pumpkin Spice Chai Loaf. Something not only autumn inspired, but a Halloween treat for the kids (and adults) to create at home whilst diving into a marathon of Goosebumps movie.

I usually like to serve the Cinnamon frosting separate from the loaf so one can control the amount of frosting they want on their cake. To take this satisfying warming snack to another level, I love having it with Chai Tea or Chai Latte. One of my favourite brands I use in creating this recipe is 'Drink me Chai' sold at your local supermarket. 

Here's the recipe …. Happy Halloweeny…Enjoy! 
Course: Dessert
Cuisine: India / America
Prep time – 20 minutes
Cooktime – 45 minutes
Servings – 8
Ingredients:
Small (sugar) Pumpkin or a can (300g) Pumpkin purée
275g Plain Flour
0.5 tsp Bicarbonate of soda
1.5 tsp Baking powder
3x Medium Eggs
220g Butter
75g Caster Sugar
170g Icing sugar
150g Soft brown sugar
1tbs Vanilla extract
60ml Double cream
125ml Coconut oil
4tsp Ground Cinnamon
1tsp black ground pepper
1tsp Ground Ginger
3tsp Chai latte powder
Method:
Set oven to 160 degrees.
If using fresh pumpkin prep this well in advance. Cut into the pumpkin and scoop out the flesh, cut in quarters & coat with oil, place in 250 – 300 degrees oven for 40-45 minutes until soft. Take out of the oven, take the skin off immediately, and blend the pumpkin until it's smooth in consistency. If too watery, place the purée in a cheese cloth in a sieve and leave it for about 10 minutes for any excess liquid to extract. You can simply use a canned pumpkin purée as a shortcut. As they say… Fresh is best!
Create the Chai spice by mixing Chai latte powder, ground cinnamon, black pepper, ginger & put half away that will be used in the Cinnamon frosting.
Mix the wet ingredients; pumpkin, eggs, vanilla, coconut oil, brown sugar & whisk
Mix the dry ingredients; flour, bicarbonate, baking powder, chai mixture and combine.
Tip the dry mixture into the wet and whisk until evenly coated.
Grease a loaf tin with butter, it's optional to use a loaf tin parchment paper but I find this makes life easier and less likely for the cake to stick to the tin when out of the oven.
Carefully tip the mixture into the loaf pan and spread the top evenly.
Place in the oven carefully and bake at 160 degrees for 35 minutes (depending on how powerful your oven is). Ensure your cake is cooked all through by inserting a cake tester into the middle. Clean cake tester = cake is ready, Cake batter covered tester = leave the cake in the oven for longer (check every 5 minutes).
Once ready, take it out of the oven, let it cool in the pan for 10 minutes then get the loaf out of the tin and transfer to a cooling rack.
To make the Cinnamon Frosting –
Place the butter (120g) and rest of the brown sugar (50g) & cream in a pan and melt gently on low heat, stirring until smooth. Put aside to completely cool off.
Mix half of your chai spice with caster sugar & put aside.
Once the brown sugar mix is cooled, beat in the rest of the butter(100g), icing sugar & cinnamon (2tsp) until fluffy.
Serving option is your choice, you can layer the frosting on top of the loaf and sprinkle the Chai spice sugar over the frosting OR you can serve the Pumpkin spice loaf in slices with a side of Cinnamon frosting, sprinkled with Chai spice sugar.
Swapsies:

I find it easier (saves time) to use store bought Chai Latte in the recipe as I drink this a lot. If you would like to create your own Chai spice mix for your tea or latte, see my ingredients list below;
Chai Spice:
Grind the above together using a counter mortar & pestle mix well & infuse in Fresh milk with a tsp of fresh grated ginger & 2 cinnamon sticks…
.
A full video of this recipe can be found on my channel FUNJAYJAY | How to make Cinnamon Pumpkin Spice Chai Latte Loaf
Feel free to leave your comments below or if you have any questions about the recipe, please do ask.
xoxo
FunLola
---