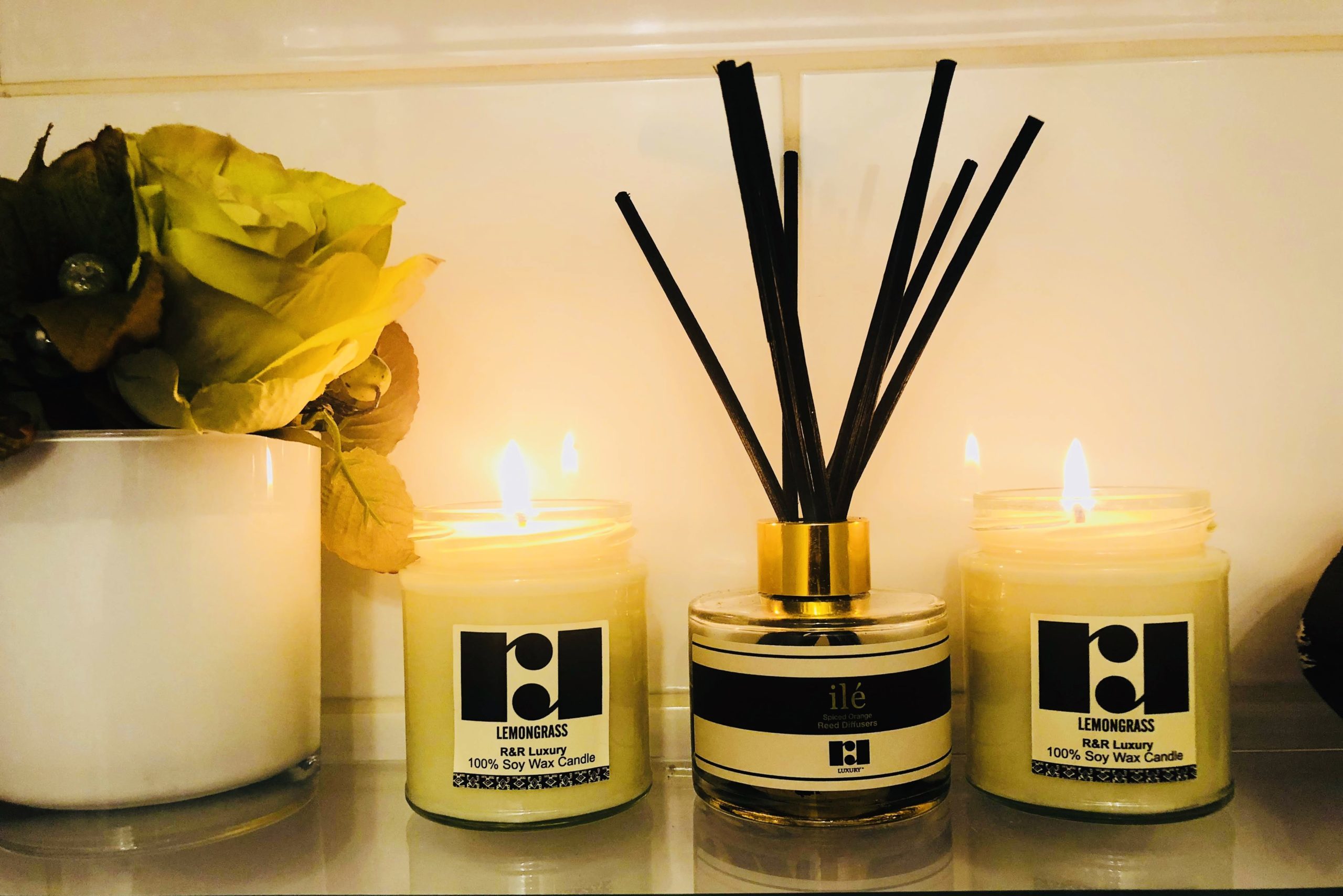 31 Oct

Winter Is Coming
…… so the Candle hoard is coming out!
When it comes to decor styling, I follow a theme and wherever I can get away with it, I like to incorporate pieces that serve dual purposes. Just as I love Reed Diffusers that do the main job of giving out exquisite fragrant smell and the bottles double up as beautiful decor pieces. I apply this when it comes to purchasing and styling candles as well.
You can't go wrong with candle jars with lids, especially ones with decorative pieces on the lid, with muted shades or ones that add a pop of colour to a space.
Scented candles should be a staple piece in the home, not only do I view them as a 'welcoming' aroma to get rid of unwanted smells during and after cooking, I also use them as a calming reward scheme and a signature scent. After I finish cleaning each room, I light a candle as the final piece de resistance to mark the end of a task. What you get at end is the entire house filled with a cosy wonderful scent.
I have a specific scent of candles I use for each area of a living space. Call me crazy but I can't seem to bring myself to use the same fragrance of candle I use in the kitchen, in the toilet as well. This is just my own preference & how my brain works, so this is most definitely a judgement free zone on that! Haha!
For example …
Kitchens: food based candles in the kitchen for a natural fresh scent i.e. Ginger, Pachouli, Orange blossom, Lime & Basil; the end result leaves a fresh clean fragrance (Aldi's's Lime Basil & Mandarin is very much underestimated).
Bathrooms/Cloak room: Eucalyptus, Rosemary, infused candles for calming senses for a spa like atmosphere (Rituals have good options online and in store).
Hallways/Landing: I like my candles scented strongly for these areas as these are high traffic areas and the first smell that hits you when you open the doors to your home.
Bedrooms: gentle scents like Amber, Gardenia, Peony Rose, Jasmine
Living/Dining: Moss, Rosemary & Bay are earthy scent options that are not overpowering and long lasting.
A choice of candle is dependent on how strong you like the scent to be and how often you burn candles in your space. Some people like to purchase high end candles in which they only burn a few times a week and some like the feel of constant candle burning to serve different purposes.
I prefer to go for luxurious good quality soy wax candle with a high street/mid range price, these are not too expensive to purchase and replacing them won't break the bank.
The high street & mid range candle brands below are some of my favourites and they have a great selection which are good quality and long lasting;
If you like the luxurious high end candles that looks unique and you don't mind the price tag that comes with burning these candles for hours, try the following brands;
As Christmas draws nearer there is more access to festive themed candles. I recently tried Sand + Fog and love the 'Winter Pine', it fills the entire room up and especially used in the kitchen after a cooking marathon. 'Moss' by MG of G is great for living areas if you like an earthy smell that is natural but not overpowering. My favourite candles & room sprays are by DW Homes and a plethora of their collection can be found at Homesense & TK Maxx.
Aftercare:
It is also very important to look after your candles so they burn efficiently and last much longer.
Before you light your new candles, trim the wick, then let it burn for at least 3-4 hours to melt the top layer for an even burn. There's nothing more annoying then a wick that goes out and leaving a tunnel of wasted wax unburned above it.
To help with the treatment of your candles having the right set of
tools
is required to maintain them effectively.
There are so many scented candle options out there nowadays from floral, citrus to spicy, woody scents, the options are limitless!
Everyone loves scented candles but before making your choice ask yourself ;
1.) Budget – How much will I be willing to spend on a single candle or a combo gift box?
2.) Scent – What fragrances are you drawn to (Top, Middle & Base notes), and where will this particular candle be placed in your choice of space?
3.) Will choice of candle size last for the duration that is needed? Option to buy a smaller size first so you don't get stuck with it if you end up not liking the smell?
What's your favourite candle and why? I would like to know so to try these suggestions out.
Feel free to leave your comments below or if you have any questions please do ask.

xoxo
FunLola
---