30 Jan

Nine Favourite Things – January 2021

Hey Hey welcome to the month of January! This month's 9 favourite things has been a joy to discover and I can't wait to share it with you.
---
1. Boadicea 'Almas' Room & Fabric spray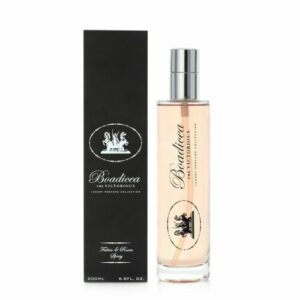 If money had an attractive scent … this would be it! A luxurious long lasting scent like the bottomless money pit of the Middle East!
I'm a big fan of Boadicea the Adventurous luxury perfume range but their Room & Fabric spray range went under my radar until a dear friend gifted one for Christmas. The one I got was the Almas, an extremely sturdy bottle with the beautiful distinctive Boadecia logo embossed on the lid of the bottle. The 'Almas' has a strong luxurious scent but not overwhelming, with top notes of 'zesty pineapple and spicy clove bud and wafts of Tunisian neroli to Cambodian Oud'. All you need is a few spritz and the scent engulfs the entire room straight away, eradicating any unwanted lingering smell. The spray can be used on linen as well, and I've sprayed this on clothes in drawers & wardrobes, so the first thing that hits you when open your drawers is this lovely exquisite fresh crisp rich 'money' vibes. I absolutely looooove it! The room sprays are on the pricey side but I feel it's worth the price tag coming from Boadicea. If you're familiar with their perfumes (team 'Complex' ) you'll know this lasts a long time on the skin and clothes even after you've had a shower. I will definitely be replenishing this room spray once I run out and add to my Diffuser and room spray collection.There are 4 products in the Room spray range, check out the website for the range.
---
2. Tefal double walled vacuum insulated Travel Mug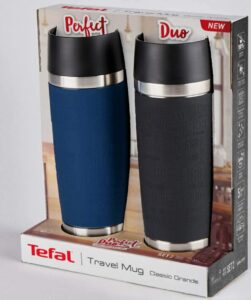 This Tefal mug is perfect to use to keep your drinks hot or cold. I find that my mug of hot drink goes cold very fast, especially if I'm busy doing chores around the house and I need a hot drink to take along with me. As we remain in lockdown and are unable to make the most of our travel mugs, I have found a better use for them. If you like to nurse your drinks for a long period of time, this mug keeps your hot drink pipping hot for up to 6 hrs, which is ideal when stuck behind a computer screen working from home. The Tefal mug is double walled which contributes to keeping hot or cold drinks in their state for long periods of time. The silicone embossed writing on the body makes it very attractive and less slippery between the fingers. It has a clever 360 drinking edge with a spout-less design which means you can pick up the mug and drink from anywhere on the rim. I got mine, a grande set of 2 (Blue & Red) 500ml from Costco for £20.98. Amazon is selling them individually between £18 – £20, dependant on colour choice or a set of 2 for £38.99. Sooooooo I would suggest if you have a Costco card/account or know someone that can get it for you on their account, go with a Costco purchase. A great quality, dish washer safe, easy to clean, leak proof long lasting product.
*Before I make purchase suggestions, I like to do a little research first to see if there are cheaper, legit options anywhere else. The aim is to buy quality products, save money and also at a great convenience.
---
3. Re-usable clear straw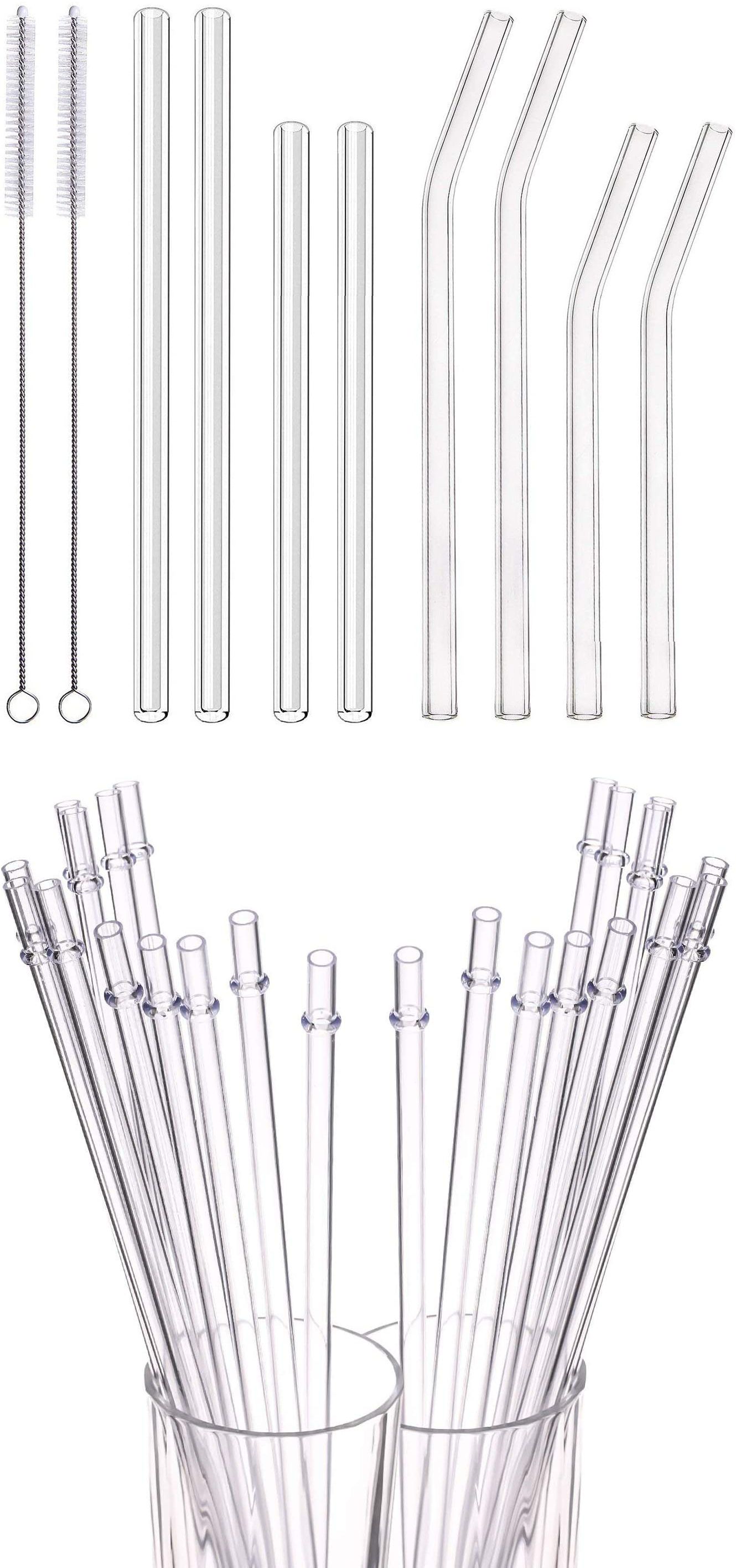 In a world where we gradually get rid of plastic & replace it with 'paper' in order to protect the environment. One of the 'plastic' based products I'm going to miss, are disposable plastic cutleries and straws, which are now being replaced with paper or cheap wood. There's just something so unnatural about sucking on a paper straw that disintegrates within 5 seconds of prolonged 'blowation' (yes … word of the day) that ends up with you having a locked jaw! It's just so disappointing when you're trying to enjoy your milkshake and you end up with bits of paper in your mouth, half of the milkshake stuck in a collapsed straw. Don't get me started on the after taste and no… I do not like metal straws either! Anyway, my go to are glass straws, durable, reusable, super easy to wash and care for as they come with a cleaning brushes. You can spot any dirt easily in them and they are aesthetically pleasing displayed in drinks. I also like the double walled plastic reusable straws for kids, in case you're worried about them handling glass.
---
4. Earth from Earth Body balms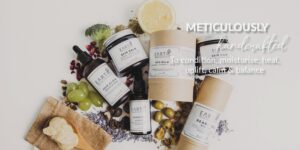 I came across the Earth From Earth body products a while back and finally decided to give it a try.
I've been using this natural infused body product range for over a month and I can see the difference it makes to my skin. My skin is softer & more nourished, especially in this cold, brittle dry weather. The body balms feels like I'm encasing my skin with natural nutrients, a combination of ethically sourced herbs, plant oils and butters that smells divine! I've tried the skin balm signature blend, festive edition spiced orange, skin balm damask rose, and the fragrance free balms (perfect for pregnant women, new mothers and babies, or if you prefer a non fragrance product). I really like all the options available, my favourite being the Damask Rose body balm and their popular lush hand serum (wish they had these in bigger bottles!). There isn't any gritty residue left on the skin like some other brands of body balms I've tried previously. The packaging is in form of biodegradable paper tube; and still looks very presentable to serve as great gifts without having to gift wrap. I love that their packaging is recyclable but still looks exquisite. I must mention the customer service is absolutely heart warming, as when there was a mishap with one of my orders due to Covid_19 postal delays with Royal Mail. The response I got to get the issue rectified ASAP by this small black owned brand was top notch service! I was very impressed by this swift response. They also have a great selection of Beard oil and balms for men, hair elixir and they have just launched a new body oil range, infused with Calendula flowers, Marigold, Geranium root and Wild yam, which sounds divine and I can't wait to try it out! Amazing products by a lovely lady, Kehinde Ogunba behind the brand. Make sure you check them out!
---
5. Breville PressXpress Steam Generator Iron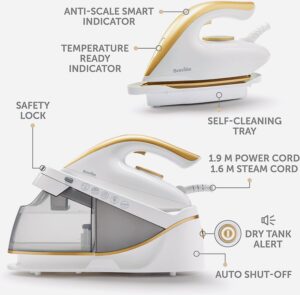 One of the chores I absolutely hate doing is the ironing for a family of 4 & household linen (yes, I'm counting the house linens as an 'entity' too!), especially during this lockdown when they seem to go through clothes and linen much more than ever before! The Breville PressXpress steam iron has made ironing so much more bearable. It is efficient, produces steams very fast once water is added, gets hot quickly & most importantly, it's light weight enough to hold with one hand and double up as a hand held steamer to get rid of creases on curtains and delicate fabrics. There is currently up to 25% off sale, so grab it quick if you'll like to give it a go.
---
6. Extra long Hot 'Body' Water Bottle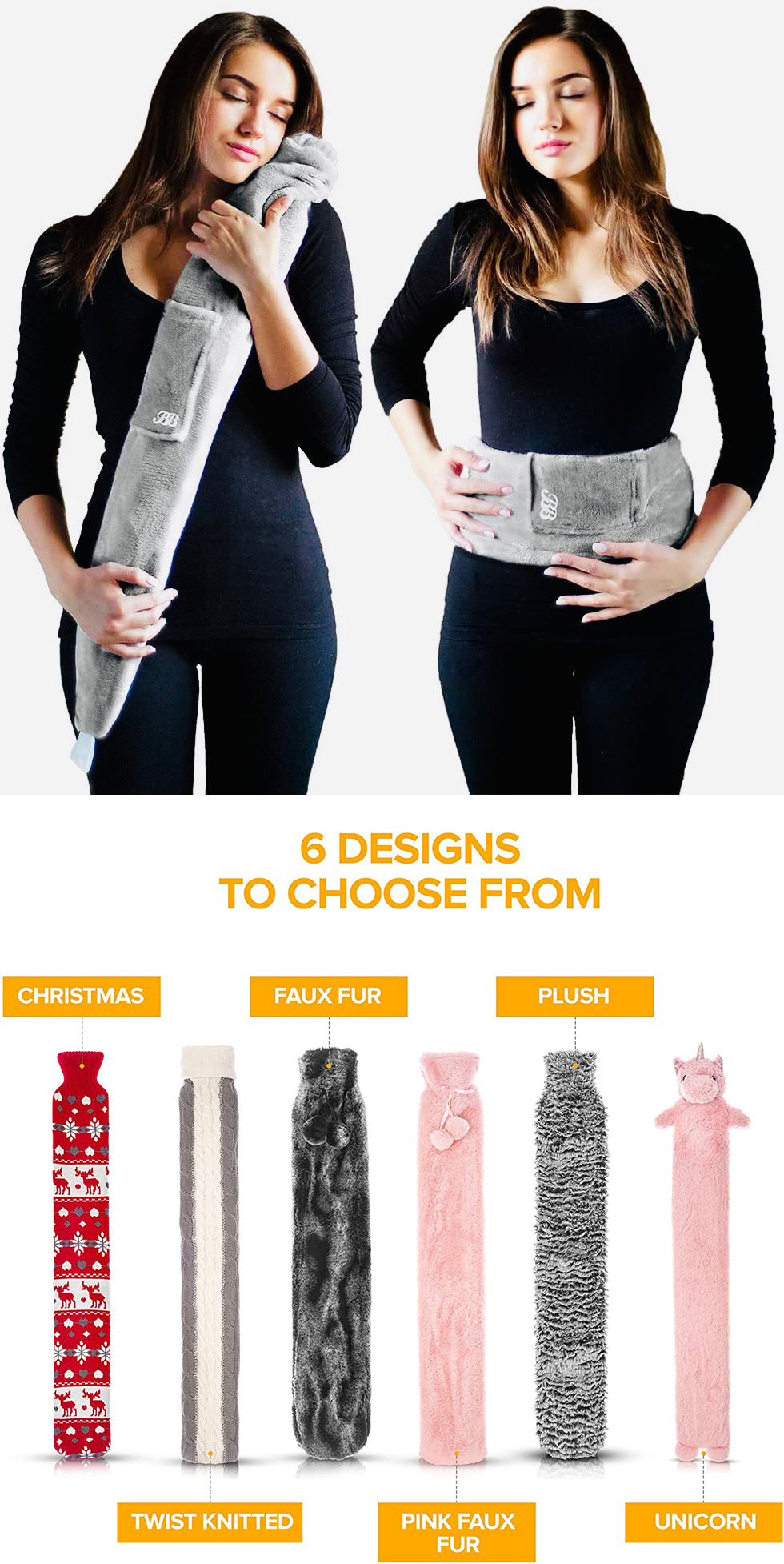 The size & shape is what makes this extra long soft removable fabric hot water bottle very unique. I absolutely love that you can comfortably hug it when drifting to sleep or just relaxing on the couch. I'm usually not a fan of hot water bottles as I feel it only serves certain parts of the body where placed, but this style has definitely converted me. This tube shaped hot water bottle does more… it's a warm cosy hug covered in comfortable (removable) fabric with a choice of 6 designs and can stay warm for up to 5 hours.
If you would like to raise the bar, there's the option of the 'body' hot water bottle you can actually wrap around your tummy during those awful period pains or stomach cramps. Either one serves it's purpose and I don't see myself going back to a standard square hot water bottle.
---
7. Rich Dad Poor Dad For Teens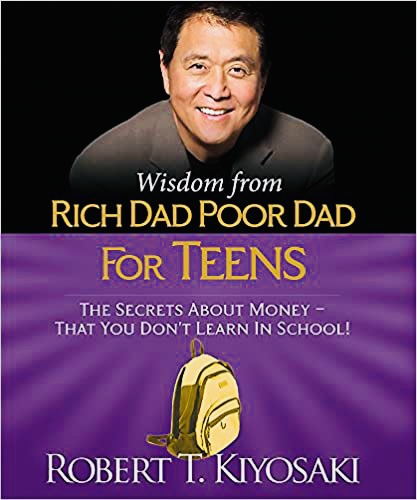 It's never too early to start your kids off on the correct financial path. There has been too many times my friends and I sit down for girlie chats and wished growing up, our parents taught us about finance in terms of savings, investments, entrepreneurship, pensions, stocks & shares, property portfolio, side hustles etc. Better still, we wished back in our day, we had access to the plethora of financial advise, opportunities and information the youngsters of nowadays have as soon as they get into secondary schools. The aim now is to teach them how to allow their money to work smart and hard for them, instead of working hard for their money.
If you've read Robert T Kiyosaki's 'Rich Dad Poor Dad', you have an idea how impactful that book was to the mass . If you haven't read it, I highly recommend you do. Robert also released a teen version of the book, 'Rich Dad Poor Dad For Teens – The secret about money that you don't learn in school!'. Now ain't that the truth!
I feel that schools don't prepare kids for the real world when it comes to finance. You learn about the real value of money in the 'University of Life', when you need to be proactive and which may lead to more chances of making mistakes. The book is a good intro for Teens (early as 11+) to learn about money, investing & many more financial nuggets which is broken down in layman terms.
It's important that I mention that there is also a pocket book version (so you won't be alarmed at the size when it arrives in the post) of RDPD for Teens, as apparently a lot of people have mistakenly bought this, thinking it's the standard size. The pocket book version has a hardcover, great size for kids to pop into their bag or in their pockets to reference any points they need to touch on quickly.
---
8. Diptyque Roses Graphic collection (Limites Edition) Candle
One of my love languages is a good scented luxurious exquisite candle.
Diptyque 'Roses' candle, this limited edition graphic collection candle is perfect as a gift for Valentines Day or any day to be honest. Even if you're not a fan of colour pink, you may ignore this and purchase solely for the floral notes. It is presented in a beautiful graphics glass jar with a hint of femininity. If you like a floral scent that is strong, yet not so pungent that it is overpowering, the 'scent evokes rose bushes overflowing with flowers'. You may want to purchase a few jars (if you can) as it's limited release for only Valentines Day! This is available to purchase online (quick delivery) in two sizes, 70g and 190g via Space NK & John Lewis.
---
9. Maison Francis Kurkdjian sample perfumes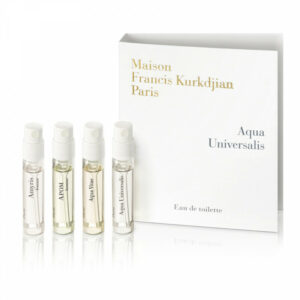 Gone are the days where you try out an expensive perfume in store, like it, buy the full bottle only to get home, use it for a couple of days and you end up no longer loving it and push it to the back of your perfume collection because you can no longer return it.
The best way to try out perfumes before fully committing, especially the very expensive ones, is to get samples sent to you and use them for a week to aid your decision in purchasing your preferred scent. Penhaligon and Maison Francis Kurkdjian do very reasonable sample packages of various choice of their perfumes.
Always wanted to try the infamous Bacarat Rouge 540 but at £310 for 100ml, it'll be silly to splurge without a proper trial. The stronger long lasting Baccarat Rouge 540 Extrait de parfum at £545 a pop has been added to the collection and the Oud Satin Mood at £385.
You can trial any 4 out of the 25+ Maison Francis Kurkdjian luxury perfumes at a reasonable price of £14 for 4 vials of 2mls with free p & p. I'm a sucker for packaging as it anticipates what there is to come, so MFK get a 10/10 from me for their exquisite packaging for items as little as samples. Boadecia can learn a thing or two about packaging from them.
---
If you do purchase any of the items I have suggested please tag me, @funjayjay as would love to see what you purchased.😊
xoxo
FunLola
---