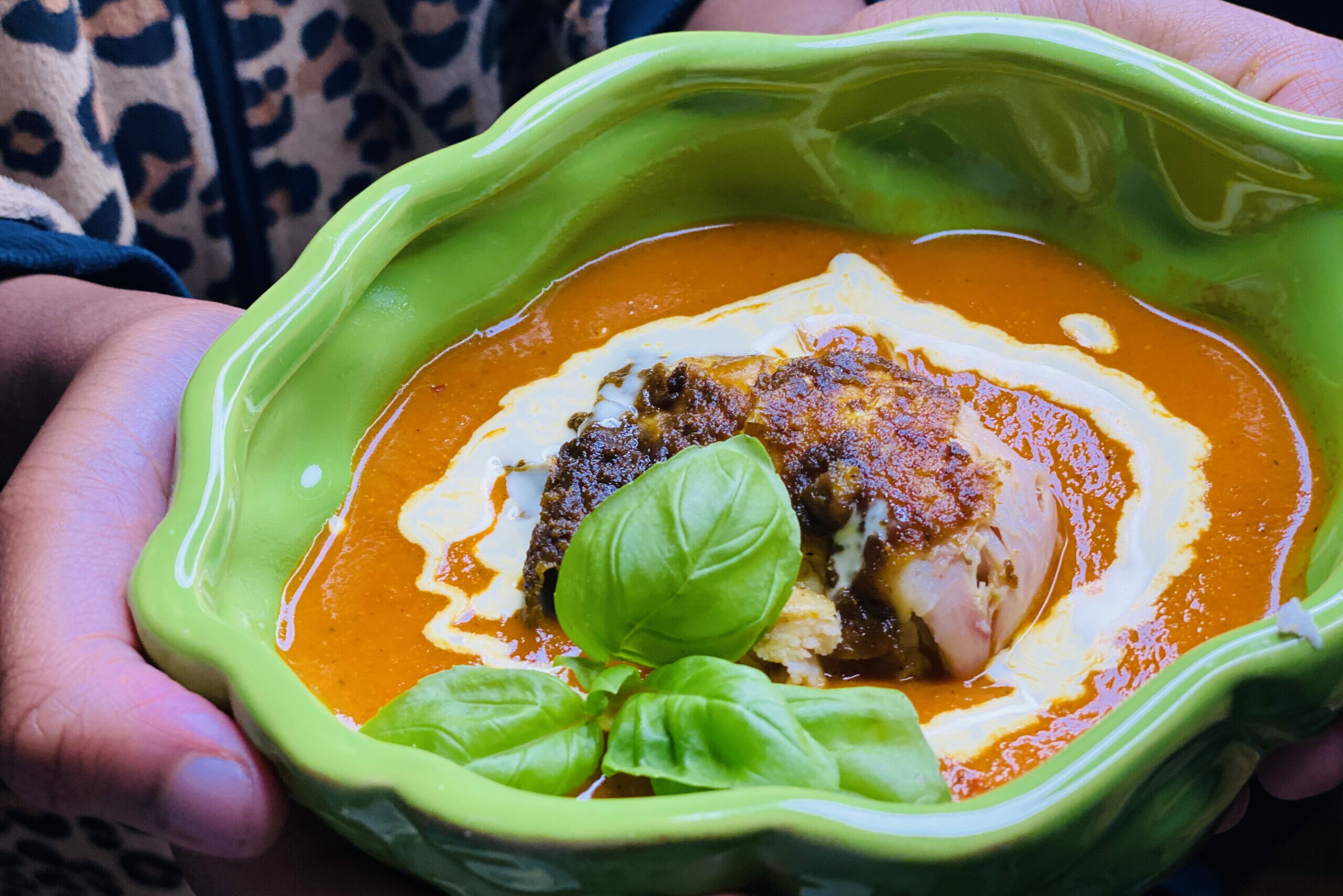 07 Nov

Chicken Suya Roasted Tomato Soup

Soup season has arrived ohhh my people! 

Thaw your senses with a bowl of homemade soup!

There will be no recipes of bland soups up in here! Only tasty, lick your bowls Oliver Twist style 'Sir .. please may I have some more? ' kinda soup fest!

I absolutely love tasty soups, they are warm, comforting and are perfect as a starter for your dinner menu courses. Christmas is just around the corner & with the mandatory 4 weeks UK lockdown which may or may not be extended until Christmas, it's time to start planning your festive menu and incorporate simple yet tasty food. Whether just for your immediate family or if you're having people over for Christmas lunch and/or dinner, simple tasty recipes are welcome, especially ones that can be made in advance and warmed up for your guests. This takes the pressure off your cooking times as well.

We'll be starting off the soup series with a Roast Chicken Suya Tomato soup recipe, which is perfect anytime of the day, as a light lunch, main, dinner or if you simply want a tasty low carb meal. This is a quick recipe so feel free to use store bought or leftover roast chicken which can be seasoned and warmed up in the oven. 

This soup is a little twist to the classic Tomato soup. Some may find tomato soup bland & boring, but without using good quality peppers, tomatoes and the right spices, you're starting something that will end in disaster!

Don't get me wrong … I'm not knocking tomato soup that comes in a can because they can serve their purpose as a base to elevate your soup (with spices) if you're in a rush. The downside ….. they taste bland and acidic.

The great thing about making your own soups is that you can make as much as you want in large quantities and store them in your freezer. 

Serve this deliciousness with some freshly baked (use half baked) crusty warm petit pain, lathered with creamy butter (I'm a sucker for Lurpak butter)
Course: Starter
Cuisine: British African
Prep time – 15 minutes
Cooktime – 30 minutes
Servings – 6
Ingredients:
4x Red sweet (pointy) pepper
200g Sweet cherry tomatoes (on vine)
6x Beef tomatoes
1x Red onions
4x Garlic cloves
Handful of Fresh Basil
3x sprigs Fresh Rosemary
Spray oil
200ml vegetable stock
300ml Coconut milk
2tbs Tomato puree
1tsp Sea salt
1tsp Cracked black pepper
1tsp Chilli flakes
Double cream (garnish)
3 tsp Suya spice
2tbs Honey
To prep the Roast Chicken
– Set the oven to 180 degrees.
– Make holes in the pre roasted chicken for the extra marinade to sink in easily.
– Rub the chicken with honey and Suya spice until evenly coated.
– Spray lightly with oil and cover with foil.
– Place the chicken in the oven for 30 minutes.
To make the Soup –
Set the grill to 200 degrees.
Cut the beef tomatoes, cherry tomatoes, peppers, onion into slices and place on an oven friendly sheet pan lined with parchment paper. Throw on the Basil & Rosemary, spray some oil all over the veg and place the pan under the grill for 20 minutes or until veg is charred.
Remove the veg from the grill and blend until smooth.
Transfer the mixture to a pan on low heat, add veg stock, coconut milk, tomato puree salt, pepper, chilli flakes and stir gently.
Serve hot, garnished with cream and fresh Basil
Swapsies:
You can swap the crusty bread for croutons and if lactose intolerant you can use dairy free cream or a coconut milk replacement.
A full video of this recipe can be found on my channel FUNJAYJAY | How to make Roasted Chicken Suya Tomato soup
Feel free to leave your comments below or if you have any questions about the recipe, please do ask.
xoxo
FunLola
---