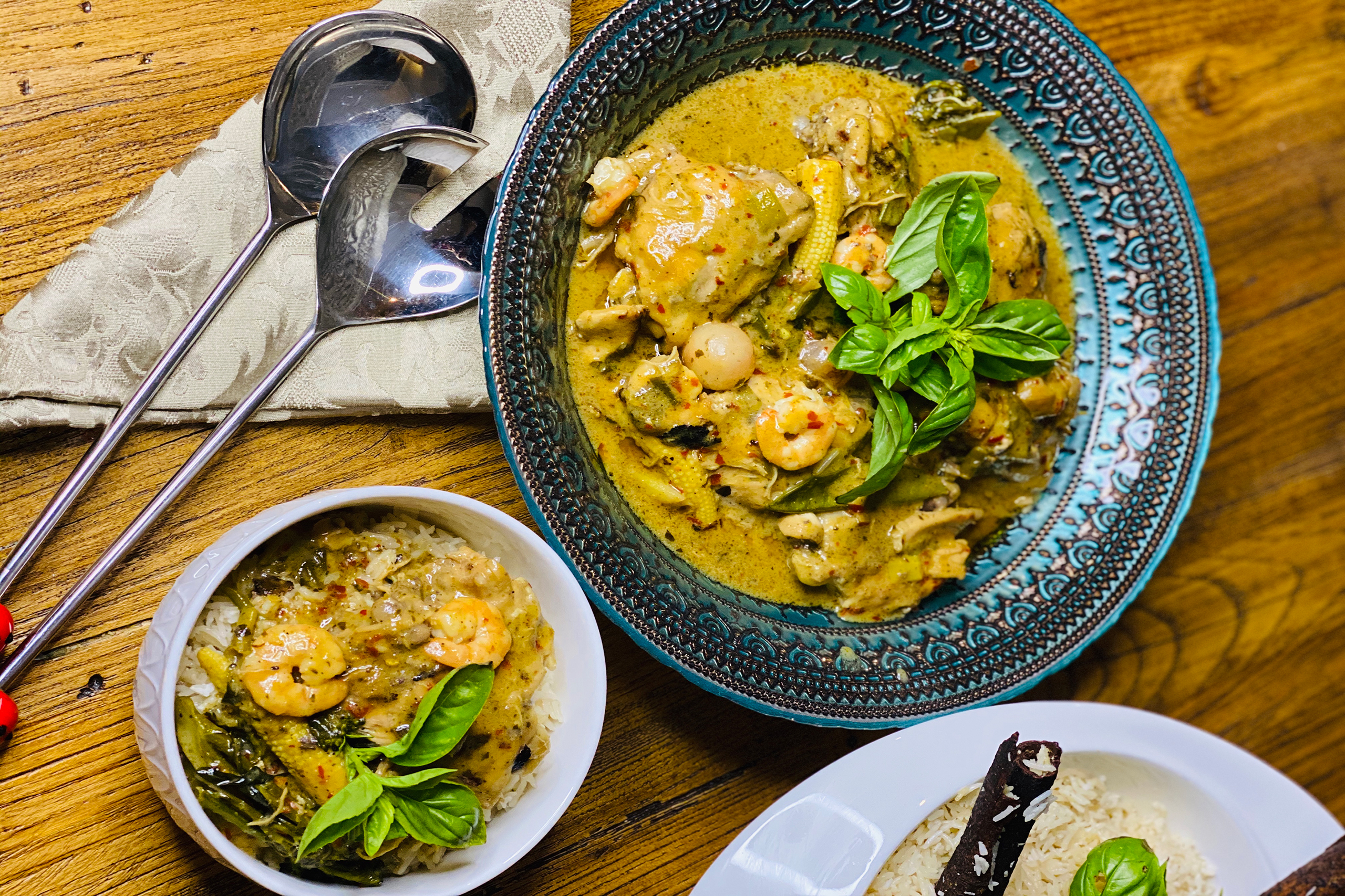 17 Oct

Chicken & Prawn Green Thai curry with Coconut Rice

This was always my 'go to' anytime I visit one of my favorite restaurants, but the portions they served was never enough so I decided to create my own version using chicken thighs (who doesn't love a good thigh!) and added some prawns to the mix. This meal is wholesome, tasty and quick to make if you use pre-made green curry paste, or you can go up a level and create your own green Thai curry paste from scratch. A good quality pre-made curry paste from your local supermarket or Asian store will be good enough. It's all about how you combine and season your ingredients to give an authentic taste.
Course: Main
Cuisine: Thai
Prep time – 10 minutes
Cooktime – 40 minutes
Serves 4
Ingredients:
10x Chicken thighs (skinless)
1x tsp Salt
1s tsp Black pepper
4x tbs Sunflower oil
2x spring onions
620g Green Thai curry sauce
1200mls Coconut milk
2tbs chilli flakes
1tsp chilli powder
2x chicken seasoning cubes
2x tbs Honey
15g Baby corn
15g Sugar snap peas
1x whole Sweet Red pepper (strips)
1x whole Green pepper (strips)
3 cups Long grain rice
100ml water
3x cinnamon sticks
2tsp brown sugar
25g desiccated coconut
Method:
Wash and pat dry the chicken thighs, add salt & pepper and mix until evenly coated.
Put some oil in a pan with a lid and pan fry the chicken on low heat for 10-15 minutes, turning them in between.
Add chopped spring onions, green Thai curry paste, 400ml coconut milk, seasoning cubes, chilli flakes and powder. Stir well and simmer on medium heat for 10 minutes.
Add salt to taste (if required), then stir in the honey. Cover and let it cook for another 5 minutes.
Add all the baby corn, sugar snap peas and peppers and let it steam for another 5 minutes
To make the COCONUT RICE –
Rinse and drain the rice with hot water, repeat this 3 times,
Add 100ml water to the rice, 800ml coconut milk, cinnamon sticks, desiccated coconut, brown sugar and mix well and cook until rice is soft & fluffy.
Serve the Rice & Green Thai curry whilst hot.
Swapsies:
If making your own green Thai curry paste you'll need to add double the amount of coconut milk required.
You can swap coconut rice for couscous.
A full video of this recipe can be found on my channel FUNJAYJAY | little Intro – How to make Chicken & Prawn Green Thai Curry
Feel free to leave your comments below or if you have any questions about the recipe, please do ask.
xoxo
FunLola
---