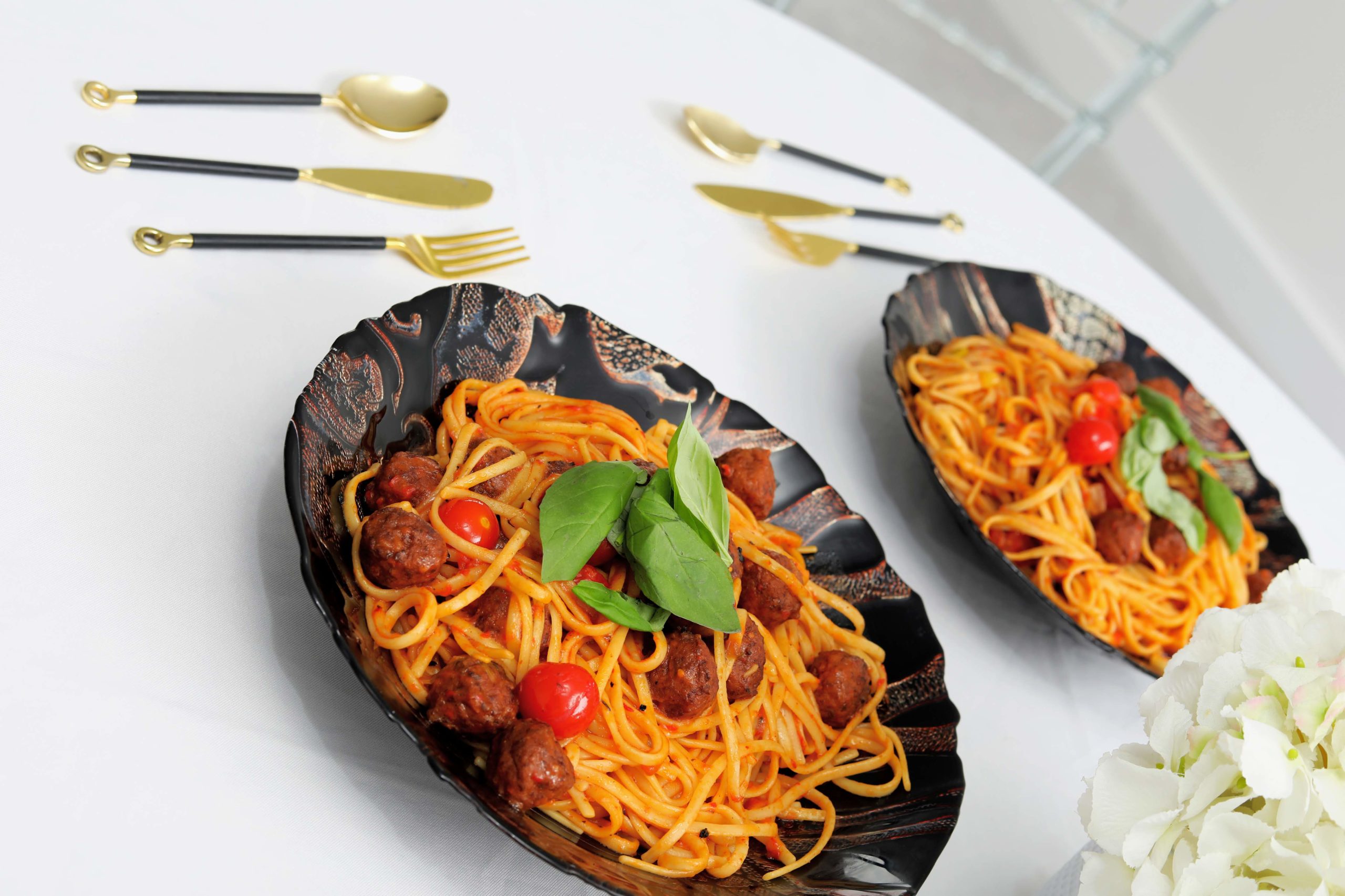 26 Sep

Spicy Meatball Linguine

The first time I ever tried Spaghetti & Meatballs when I was a kid, the combo of both were presented from a can and warmed up in the microwave. Someone was trying to convince me it was the best thing since sliced bread, hmmmm .. a story for another day. I did subconsciously tell myself that I would never let my mouth go through such egregious crime against my palette again! Hahahaha! I remember when I came up with this recipe, I was watching the latest episode of 'The Sopranos' on TV (before box sets) and I loved the way the Italians, especially Tony Soprano, sat at the table with his entourage, smacking his lips eating a bowl full of pasta and large succulent meatballs. This recipe is a little twist to a family fave of Spaghetti & Meatballs, but this version is super fast, tasty & aesthetically pleasing on a plate using Linguine instead of Spaghetti (but hey, feel free to use any form of pasta you wish). We'll be using Swedish meatballs (can be found in the fridge/freezer section of your local supermarket) as these are tasty, already half cooked, so quick to deep / shallow fry or let them slow cook in the tomato sauce to soak up the flavor.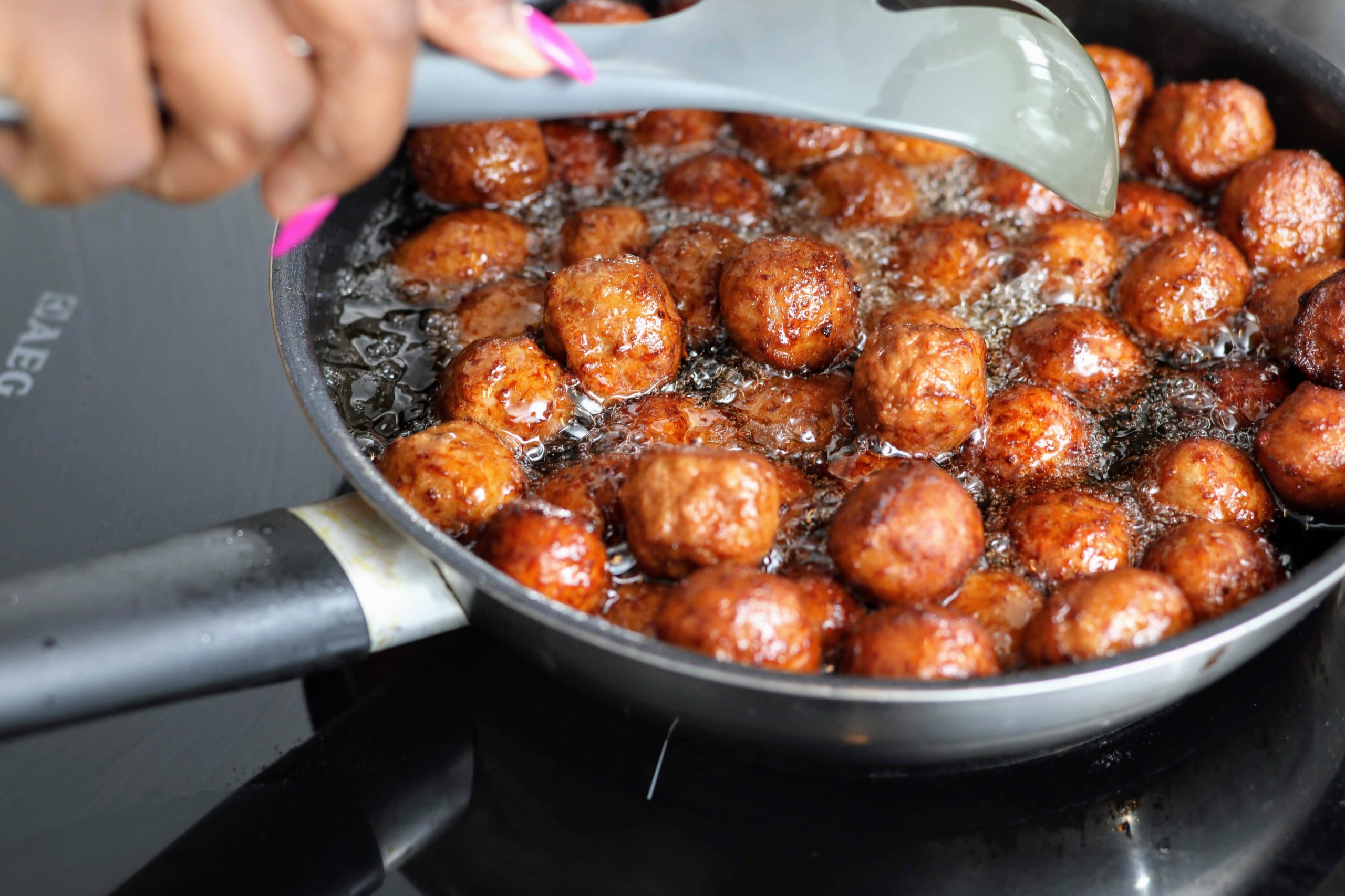 Course: Main
Cuisine: Italian
Prep time – 10 minutes
Cook time – 20 minutes
Serves 4
Ingredients:
500g Linguine
1x knob of butter
30 Swedish, Chicken or Lamb meatballs
500ml Sunflower oil
2x chopped or plum can tomatoes
1x Red onion
3x cloves Garlic
1x small fresh Ginger
1x scotch bonnet (deseed first if you just want a hint of spice)
3 sprigs chopped Spring onions
3x tbs Worcester sauce
2x Knorr seasoning cubes
Salt to taste
2x tbs Honey
Handful Sweet cherry tomatoes (some halves/some whole)
3x tbs Parmesan cheese
Fresh Basil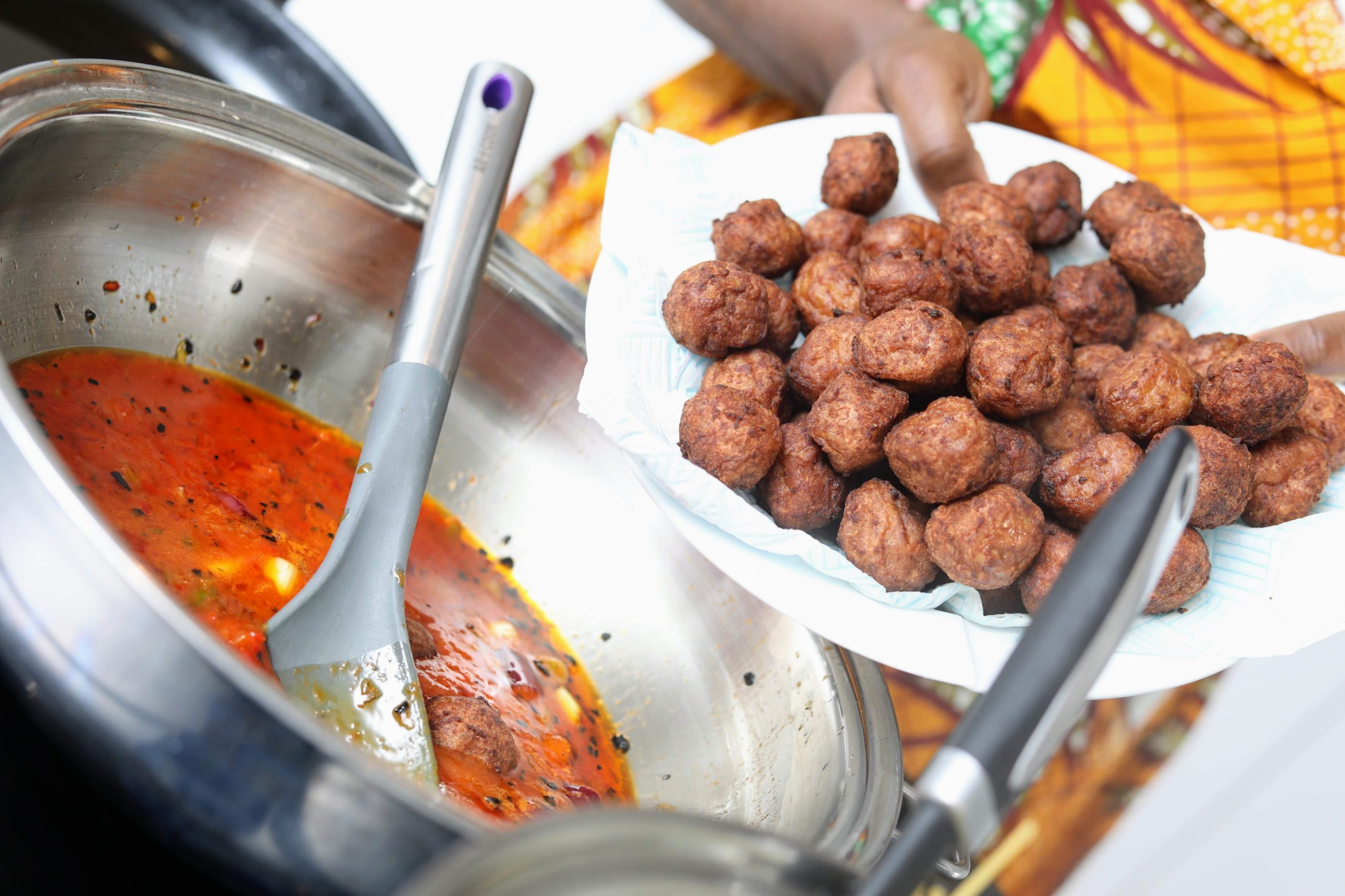 Method:
Heat up some oil in the pan and fry the meatball on high heat, turning them as they brown, 2 minutes on each side. Don't over cook the meatballs as they will still be placed in the tomato sauce later on. Take them out of the oil and set aside.
Put the can tomatoes, red onion, garlic, ginger, scotch bonnet in a blender and pulsate when blending (do not blend smooth).
Put some water in a pan, when water is boiled, add the linguine, dash of salt and a knob of butter (stops the pasta sticking & adds flavour). Cook until al-dente.
Whilst the linguine boils, heat up a pan, add 50ml oil, on low heat. Add spring onions, let it sauté for a minute stirring it, then add the blended tomato mix, Worcester sauce, seasoning cubes, honey and combine the ingredients. Stir in the meatballs, add salt to taste and let this simmer for 5 minutes.
Whilst the sauce cooks, scoop a cup of the pasta water out of the boiling pasta and set aside. Drain the rest of pasta water and add the pasta into the meatball sauce.
Gently toss the pasta until it's evenly coated with the sauce.
Toss in the cherry tomatoes and combine well, cover the pan and let it steam for another minute.
Serve, sprinkle parmesan cheese and garnish with fresh basil
Enjoy! (with some garlic bread if you have any)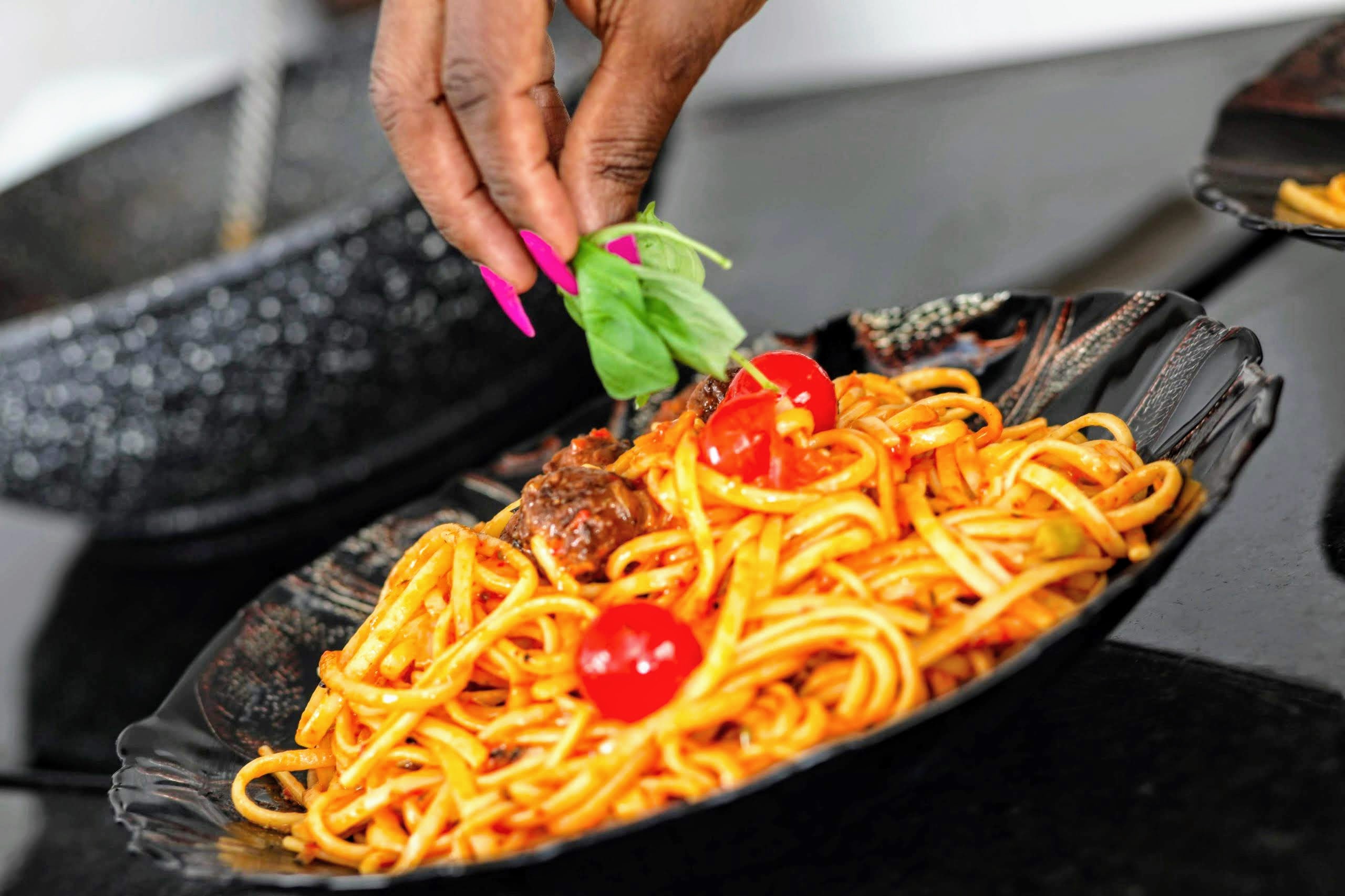 Swapsies:
You can swap Swedish meatballs to your preference of making your own meatballs from scratch or just buy pre made ones from your local supermarket, if you have enough prep/cook time.
For a meat free meal use tofu or sweet cherry tomatoes, green and/or sweet red peppers and fresh herbs.
You can swap sunflower oil and butter to olive oil / reposed oil. For butter used in in the pasta, this gives the pasta water richness and adds more flavour to the meal.
A full video of this recipe can be found on my channel ' FunJayJay | How to make Spicy Meatball Linguine '
Feel free to leave your comments below or if you have any questions about the recipe, please do ask.
xoxo
FunLola
---