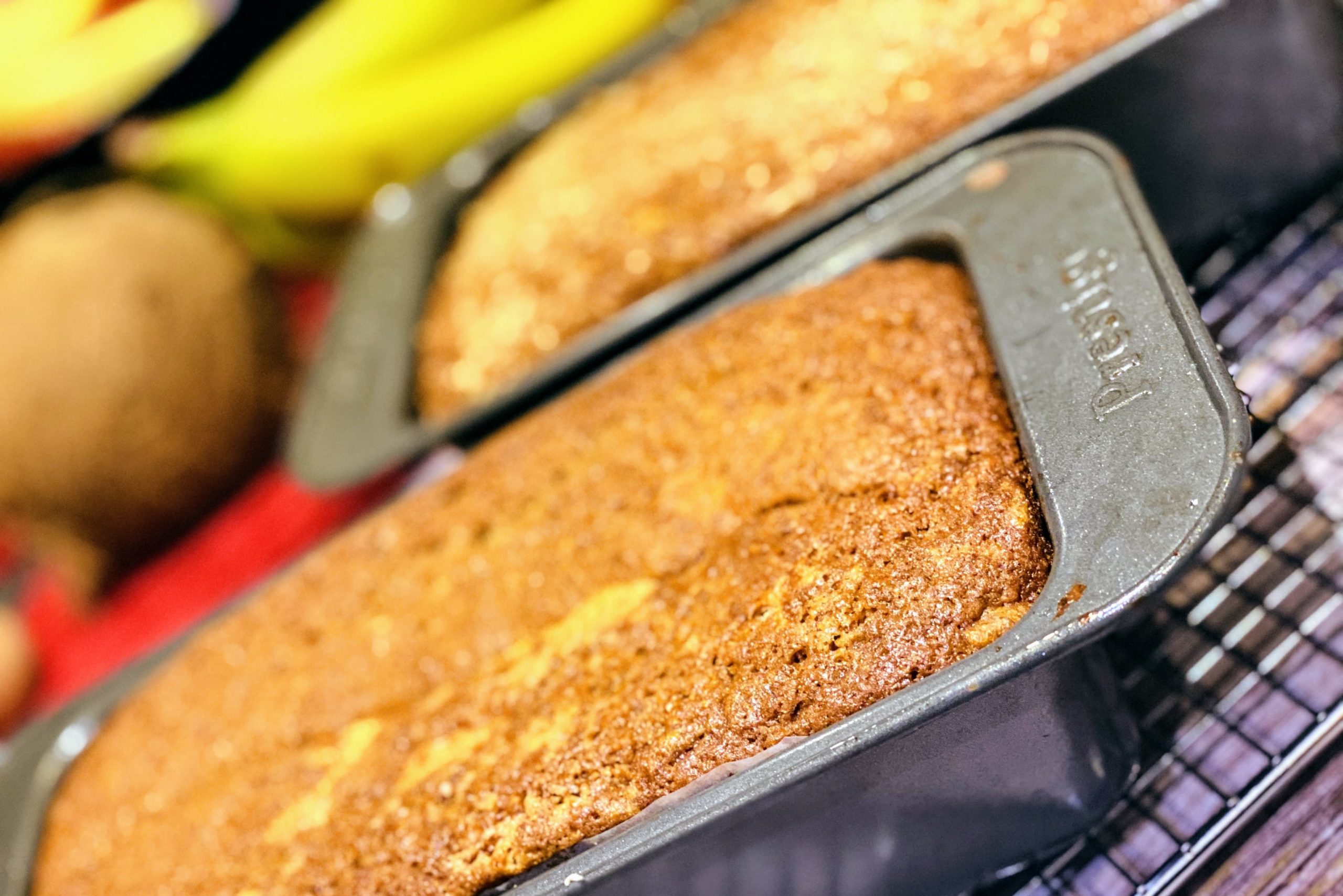 19 Sep

Coconut & Banana Loaf with 'tain chips

This is a staple in my home, courtesy of the first cook book I ever purchased, Nigella Lawson's 'Kitchen'. The size and weight of the cook book made me get a special book stand on my kitchen island to proudly display. The colour of the cook book went perfectly with my kitchen colour theme, so it also served as a decor piece.
I added shards of plantain chips as toppings because it needs a crowning glory & I love my desserts with a crunch!

You can't go wrong with making this banana loaf, the simplest ingredients used to make such a lovely treat that goes perfectly with a hot, steamy cuppa! We always look forward to over ripe bananas in my household, because it only means one thing……
Course: Dessert
Cuisine: English
Prep time – 10 minutes
Cooktime – 50 minutes
Serves 6-8 slices
Ingredients:
200g Plain flour
2 tsp Baking Powder
1/2 tsp Bicarbonate of Soda
4x Ripe Bananas (mashed)
2x Free range Eggs
125g (melted)
150g Caster Sugar
100g Desiccated coconut
25g plantain or banana chips
Method:
Set the oven to 150 degrees.
Place the eggs, butter & caster sugar in a bowl and whisk.
In a separate bowl, mix the flour, baking powder and Bicarbonate of soda. Add the wet mixture to the dry mixture, the desiccated coconut and whisk further.
Mash the ripe bananas in a bowl until it turns to almost a smooth paste, fold gently into the cake batter. If you desire smaller pieces of banana in your cake, then whisk further.
Grease a loaf pan with butter, or you can also use a loaf parchment paper to line the loaf pan.
Pour the batter gently into the loaf tin and spread evenly.
Bake for 50 minutes at 150 degrees. To ensure the cake is cooked, stick a thin metal or wooden skewer in the middle of the cake, if the skewer comes out clean (no batter sticking on it) the cake is ready.
Take the cake out of the oven and place on a cooling rack for 5-10 minutes.
Gently tip the cake out of the pan and begin inserting the plantain or banana chips shards on top of the loaf.
Serve warm with thick creamy hot custard or your choice of accompaniment
Swapsies:
If you don't like custard, you can eat this with good quality rich vanilla ice cream like Mackies or Haagen Daz or just simply enjoy it on its own…
A full video of this recipe can be found on my channel ' FunJayJay | How to make coconut and banana bread (loaf) '
Feel free to leave your comments below or if you have any questions about the recipe, please do ask.
xoxo
FunLola
---