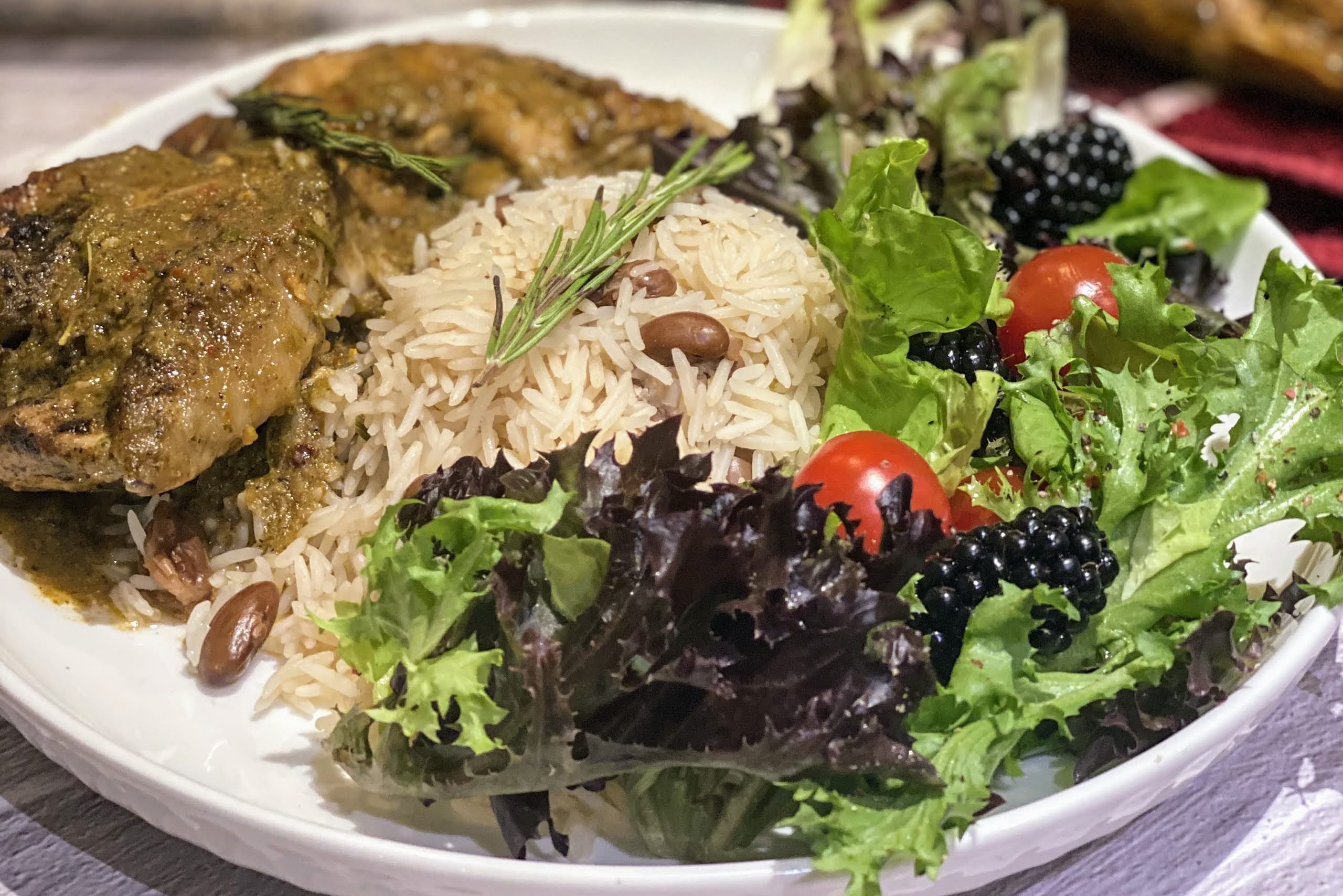 12 Sep

Lo's Jerky Jerk Chicken with Rice, Beans & Peas

I am a big fan of Caribbean food and there aren't access to many Caribbean restaurants where I live so I usually have to wait until I go into London or Nottingham (a couple of fave restaurants there) to enjoy Caribbean dishes. This is a recipe combo that I enjoy, family, friends & colleagues that have tasted this absolutely love it. It's my version of '(jerky) jerk chicken' packed with flavour, fresh herbs and spices!!! For this recipe, you'll get a chicken rub combo you can store in a jar for ease and keep using for your meat marinades. You also get 3 for 1 on this recipe meal with 2 accompaniments to go with it….
Course: Main, Side, Accompaniment
Cuisine: Afro Caribbean
Prep time – 20 minutes
Cooktime – 1hr 30 minutes
Serves 4
Ingredients:
8 chicken thighs
3tbs Chicken 'Rub' (coarse salt, paprika, garlic powder, onion powder, oregano, thyme, coriander, cayenne pepper)
3tsp Black Pepper
2tbs Sunflower oil
6x spring onions
Fresh thyme
Fresh parsley
1x nutmeg
3tbp runny honey
2tsp salt
6tbs white wine vinegar
2tsp crushed Garlic
3tsp crushed ginger
1x canned Red Kidney beans
2x Cinnamon stick
500g washed rice
1000ml Chicken stock
500g Black Beans & Peas
Method:
Mix ingredients for the chicken rub in a bowl.
Slit/Half the chicken thighs.
Drizzle some oil on the chicken & massage the rub, black pepper, salt (1tsp) into the chicken.
Heat the oil in a pan and sear the chicken. Turn the chicken over, 2 minutes on each side.
Take the seared chicken out & put aside
To make JERK SAUCE –
In a blender, put (4x) spring onions , thyme, parsley, all spice, nutmeg, chilli pepper, honey (1tbs), salt (1tsp), white wine vinegar and (90ml) chicken stock and blend.
Add the crushed garlic & ginger and blend the mixture until smooth. Ensure you're happy with the taste of the marinade & adjust salt as preferred.
Set the oven to 180 degrees.
Place the chicken in an oven friendly dish and pour the jerk sauce over chicken. Ensure the chicken pieces are fully smothered in the jerk sauce. Drizzle runny honey (2tbs) over the chicken.
Place the chicken on the top shelf, bake in oven for 50 minutes at 180 degrees, turning the chicken half way through.
Whilst the chicken is the oven, begin prepping the rice.
To make RICE, BEANS & PEAS –
Put oil in a pot, chop (2x) spring onions, add the (2x) cinnamon sticks and slightly fry.
Add the washed rice, chicken stock, black beans & peas, cinnamon stick, pinch of salt & pepper to taste.
Cover the pot & cook on medium heat for 15 minutes or until the rice is soft & liquid drained.
Serve the Jerk chicken on a steamy plate of rice & black beans n peas, Garnish with fresh parsley.
Enjoy!
This meal combo also goes great with Raspberry & Blueberry salad and Parsley Butter Grilled corn cob.
Swapsies:
You can swap the Black Beans & Peas for Red Kidney Beans or Butter Beans.
Knorr chicken stock gives a lovely flavour or use your own homemade chicken stock to cook the rice.
If the jerk chicken is too spicy for your tastebud, have a bowl of cold Greek yoghurt lightly mixed with olive oil & coriander leaves at hand to eat with the chicken. This helps reduce the spicy taste when enjoying the meal.
Feel free to leave your comments below or if you have any questions about the recipe, please do ask.
A full video of this recipe can be found on my channel ' FunJayJay | How to make Lo's Jerky Jerk Chicken with Rice & Peas '
xoxo
FunLola
---